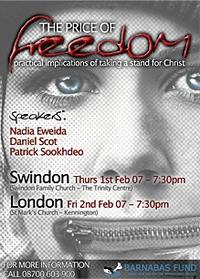 By Rick Pearcey
On January 20,
The Pearcey Report noted
that
British Airways
had dropped its ban on allowing employees to publicly wear cross necklaces at work.
At the center of the controversy has been Brit Air check-in worker
Nadia Eweida.
Now comes an announcement that she will be speaking at two "Price of Freedom" events in England -- in
Swindon
February 1 and in
London
February 2.
For more information, visit the website of
Inspire magazine
.
Related:
Secularism Takes Hit at British Airways
, by Rick Pearcey
_______________
Rick Pearcey is editor and publisher of
The Pearcey Report
.